Gladstone Parks, Recreation and Cultural Arts


Gladstone Kids Triathlon Volunteers

Numerous volunteers are needed to help make this a fun and safe event for the participants! Volunteers are spread throughout the entire course to help keep eyes on all participants and are the best cheerleaders on the course. To volunteer, a person does not have to be a triathlete, as our event staff will have detailed job descriptions and will be on-site race morning to answer any questions you may have. Kids Triathlon Volunteers get a free event t-shirt!

How do I Register as a Kids Triathlon Volunteer?
We ask that all of our volunteers register online or by contacting Gladstone Community Center by email.

To Register Online:
1. Click Here to Register Online as a Kids Triathlon Volunteer
2. In the top menu select "Register" and then down to "Programs or Activities"
3. Select the plus sign next to Swimming
4. Click on 2018 Kids Triathlon (Volunteer)
5. Click on the notepad and pencil icon under the heading "Sign Up"
6. Fill out Personal Information and Questions and then "Add to Cart" icon at the bottom of the screen.

If you have any question or want help registering, please contact the Gladstone Community Center at (816) 423-4200.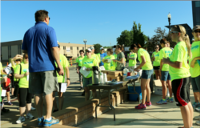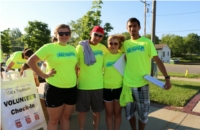 For more information about the Gladstone Community Center call (816) 423-4200 or click here to contact us.